Home
>
Services
> eCommerce Solutions

> eCommerce Solutions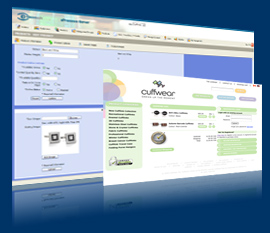 Make Your Company Standout In A Crowd
With the release of ePresence Commerce Server v2.0 Envisionsoft is taking eCommerce to a whole new level.

ECommerce isn't just about selling online, it's about growing your business. It's about giving your customers what they need, when they need it. It's about customer loyalty. It's about giving your business presence in a global market place!
Although most eCommerce solutions have a long list of features, none successfully address the MOST important challenge facing any online business initiative, how to get customers to complete their online purchases.
Consider the following statistics:
ECommerce sites lose up to 50% of potential online sales because users can?t find what they want
35% of online shoppers say they would make more purchases online if the products were presented better on e-commerce sites
79% of users named easy navigation as the most important characteristic of an e-commerce site
Online businesses that have invested in improving usability on their eCommerce sites have seen their sales increase by as much as 400%
Last year Canadians spent $13.7 billion dollars online, an increase of almost 40% from the previous year
Stats. Canada expects online sales to increase another 40% by next year
The message here is simple. An eCommerce site that looks and feels like it was made 5 years ago just doesn't cut it. Internet users demand more and Envisionsoft's ePresence Commerce Server v2.0 delivers!