Home
>
ePresence
> eCommerce Solutions

> eCommerce Solutions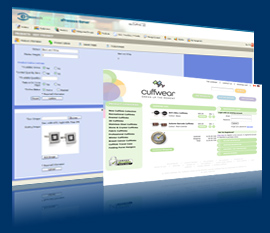 Overview
Although most eCommerce solutions have a long list of features, none successfully address the MOST important challenge facing any online business initiative, how to get customers to complete their online purchases.
Consider the following statistics:
ECommerce sites lose up to 50% of potential online sales because users can?t find what they want
35% of online shoppers say they would make more purchases online if the products were presented better on e-commerce sites
79% of users named easy navigation as the most important characteristic of an e-commerce site
Online businesses that have invested in improving usability on their eCommerce sites have seen their sales increase by as much as 400%
Last year Canadians spent $13.7 billion dollars online, an increase of almost 40% from the previous year
Stats. Canada expects online sales to increase another 40% by next year
The message here is simple. A eCommerce site that looks and feels like it was made 5 years ago just doesn't cut it. Internet users demand more and Envisionsoft's ePresence Commerce Server v2.0 delivers!

ePresence Commerce Server is designed from the ground up to enable truly engaging Internet experiences that drive sales and build customer loyalty.

Unlike most eCommerce solutions that depend on using templates designed in the 1990's, ePresence Server allows our developers to create original designs that dramatically improve navigation, usability and overall users experience.

Products can be presented using rich-media such as Flash and Quicktime instead of static images. Advanced search functionality enables users to find exactly what they are looking for. The purchase process can be reduced from 3-5 pages to just one. In short, a site that's enjoyable to use and actually works!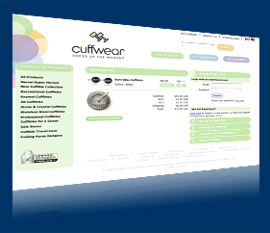 Features
Not only does ePresence Commerce Server provide the ultimate platform for engaging eCommerce, it also includes one of the most extensive set of features available on any eCommerce solution:
Engaging Internet Experience
 • Integrated rich-media capability
 • Unlimited product images
 • Thumbnail / Large Image integration
 • Audio integration
 • Truly original site designs
 • Multiple site definitions for various devices
Integrated Marketing Tools
 • Search Engine Optimized
 • Froogle Data Feed enabled
 • Yahoo! Product Feed enabled
 • Email newsletter and promotion wizard
 • Tell-A-Friend
 • eCoupons / Printed Coupon integration
 • eGift Certificates
 • Related Products / Up Sell
 • Customer Data Import and Export
Simplified Navigation and Purchasing
 • Single Page Purchase Process
 • Always Available Shopping Cart
 • Highly organized site structure and navigation
 • Way-Point Navigator
 • Advanced Search Functionality
 • Advanced Site Mapping
 • Multiple Payment Options
 • Multiple Shipping Options
 • Flex-Pay for offline payment
 • Walkin Retail Outlet Fullfillment
Robust Reporting
 • Activity / Store Traffic Report
 • Order Report
 • Regional Reports
 • Product Report
 • Printer-Friendly Report
 • Walkin Purchase Report
 • Customer Report
 • Vendor Report
Flexible Shipping Functionality
 • Fedex / UPS / Purilator Inegration
 • Automatic or Manual shipping cost calculator
 • Tracking
 • Unlimited Merchant Defined shipping zones
Simplified Product Management
 • Product Import/Export and Update
 • Inventory Tracking
 • Unlimited Product Images
 • Rich-media product representations
 • Unlimited Attributes
 • Rich Text Descriptions
 • Advanced Product Category Management
Upsell / Discount Functionality
 • Advanced Product Associations
 • Product Grouping and Discounting
 • Volume Discounting
 • Category Discounting
 • Coupon / Voucher Discounting
 • Individual product discounting
Reliability and Security
 • Built on Best-of-Bread technology
 • Platform is fully scalable for large
   deployments
 • 128 Bit SSL security for sensitive
   data protection
 • 24/7 Bullet-Proof facilities
 • 24/7 Security and Performance monitoring